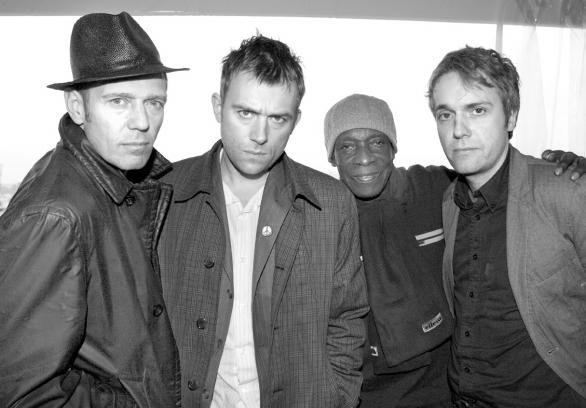 Damon Albarn and The Good, The Bad and The Queen / Gorillaz
What better place to start a piece on musicians and their side projects than with the King of the latter himself: Damon Albarn. Most widely recognised as the frontman of the Britpop band Blur, Albarn has dedicated his time and energy into a multitude of side projects throughout his career. Albarn's ceaseless creativity and boundless productivity has been illustrated throughout his history with Blur, his solo ventures, and one of his side projects, Rocket Juice & The Moon, which he collaborated with the Red Hot Chilli Peppers', Flea.
Aside from these recognised musical projects, perhaps the most fruitful of Albarn's side endeavours are both Gorillaz and The Good, the Bad and the Queen, in equal measure. The project The Good, the Bad and the Queen was created by Albarn as a return to writing music and singing about the place that his roots are firmly in, and where he started with Blur: England. Collaborating with Nigerian-born drummer of the band Africa '70's Tony Allan, The Clash's bassist Paul Simonon and The Verve's Simon Tong, Albarn made the group in 2006 after reconsidering it as a solo endeavour. Their first single, 'Herculean' debuted in the same year with Albarn's iconic British, raspy vocals over the vast amalgam of musical styles and techniques each member brought to the project. Although only a short side enterprise with Albarn claiming the project had ended in 2007, The Good, the Bad and the Queen's members continue to collaborate with Albarn on his solo projects and other sides, such as Gorillaz, of which has come to be known as one of the best side ventures in musical history.
Gorillaz, a virtual band, appeared to the public eye for the first time in 1998. Together with Albarn, the artist Jamie Hewlett created the characters and illustrations for the band that have maintained a cult following in the music industry. The 2D artists that make up the four- piece band are Stuart '2-D' Pot, Murdoc Niccals, Russell Hobbs and Noodle. In 2000, Gorillaz released their first EP, 'Tomorrow Comes Today' that speaks in nuanced terms about the digital landscape the members exist within and perform from. From its conception, Gorillaz has maintained momentum to the present-day, with recent releases of their 'Song Machine Episode(s)' earlier this year.
From a Britpop beginning in the '90s with Blur, to Albarn's constant collaborative projects such as The Good, the Bad and the Queen and Gorillaz, to his astonishing solo career, Damon Albarn has side projects emanating off of him. I'm sure it's only a matter of time until another Albarn-side-extravaganza appears again.
Go to tracks: 80s Life (TG, TB & TQ), On Melancholy Hill (Gorillaz)
Pete Doherty and Babyshambles
The Libertines' frontman Pete Doherty is a household name in the indie music scene from his drug-fuelled controversies to his relationship with the late Amy Winehouse, but it is his side project, Babyshambles that gets passed under the radar all too often.
Babyshambles was formed in 2003 by Doherty during a brief hiatus from the Libertines from which he was banned to play for until he could overcome addiction problems. The first single for Babyshambles, aptly named 'Babyshambles' was released in 2004 that arguably comments upon Doherty's own substance abuse and coming to terms with overcoming his problems through his new side project as he sings:
Got the tickets and a dirty nose
No one wants to help but everybody knows
Start with Babyshambles and your friends will come to blows
And babyshambled when you're timid at the shows
After the initial members of Babyshambles eventually all drifted off from Doherty's sidepiece, the was finally formed of the Libertines' front man together with Mick Whitnall, Drew McConnell and Adam Ficek. Babyshambles have not produced music or performed together since 2014, however they have never officially 'split up', so there is hope still for this great side project to bring music to public consciousness once again.
Go to track: Penguins
Lana Del Rey's foray into poetry
As an incredibly recent side project, we know little about Lana Del Rey's move to the poetry sphere, but that doesn't mean that we do not love to hear it!
With LDR's subtle inclusions of famous poetry from Allen Ginsberg to T.S. Eliot in her lyrics, it's no surprise that she has released her own collection of poems in the form of Violet Bent Backwards over the Grass. One of her poems, 'LA Whom Am I To Love You' is available to stream on Spotify now, and whilst LDRs reading is unlike her vocals, it is very easy to imagine Del Rey bursting into a moving, dream-like song at any moment. The music playing behind LDRs speech grabs your attention and compliments the poem beautifully, allowing your ears to follow exactly what she is saying. With a hint of darkness that is teetering on the morbid, both the composition and the poetry are as beautiful as Del Rey's lyrics have ever been. As the line is incredibly fine between lyric and poem-writing, this side project just works.
Noah Lennox: from Animal Collective to Panda Bear
It's my assertion that not as many know of Noah Lennox than they should do, so let's give him the credit he deserves. Lennox's famous band Animal Collective are notable for their experimental indie rock sound and aesthetic went down a new path when Lennox's alias Panda Bear was born.
Following on from the zoological theme, Panda Bear was found from Lennox's self-titled debut solo album released in 1999. Lennox used to draw pandas, some of his favourite animals onto his album tapes and these can also be found in some of Panda Bear's album art such as the record sleeve for 'Person Pitch' released in 2007. Lennox continues his collective work with Animal Collective alongside his solo side project of Panda Bear simultaneously to this day. Panda Bear's most recent album from 2019, Buoys follows in Lennox's experimental dream and synthesized pop sound aesthetic that he has carried over from Animal Collective.
All in all, Panda Bear appears simultaneously disparate from Lennox himself, whilst being a core member of Animal Collective as his own persona. This incredibly interesting and unique side project is worth all the listening that spans the two musical artists.
Go to track: Dolphin
Thom Yorke and Atoms for Peace
I may be biased as Thom Yorke is the love of my life, however Radiohead's frontman's side project Atoms for Peace is a true masterpiece. As ever, Stanley Donwood's album art stands out for the band, as does the lyrical wizardry of Yorke's side hustle. Formed by Yorke and Radiohead member Nigel Godrich, along with Flea from the Red Hot Chilli Peppers, the Atoms for Peace project began in 2009, under the name at least. Yorke's solo album, 'The Eraser' from 2006 was performed and jointly made by AFPs members, however the band's name was undecided until three years later. The band took its name from a track on Yorke's 'The Eraser' initially inspired by a speech by President Eisenhower.
Atoms for Peace is quintessentially Thom Yorke, with beautifully dark lyrics and imagery, united by Godrich and Flea's musicality, this truly is the side project of all side projects.
Go to track: Reverse Running
Kele Okereke's Leave to Remain musical
Known famously as Bloc Party's lead singer, Kele Okereke has gained critical acclaim for his frontman-role in Bloc Party and as a solo artist. Whilst Okereke hasn't involved himself in any side projects under different bands or pseudonyms as found within previously mentioned artists, Okereke wrote a new musical called Leave to Remain in 2019.
Together with Matt Jones, Okereke wrote and composed the music for the musical which debuted in London in January 2019. The story revolved around a gay couple, Obi and Alex, who were trying to navigate their busy schedules in hectic London during the mess of Brexit. Centring on how the couple face the world when Alex's visa comes into question, their future is uncertain in the modern world. Coming out as gay in 'BUTT' magazine, Okereke writes about homosexual love tenderly and poignantly in Leave to Remain, as well as composing moving and emotional music that balances the storyline beautifully.
Okereke's side musical represents his intelligence in writing, as well as the heart-wrenching feeling in directing oneself as both a gay man, and someone whose life depends on the new way of existing through Brexit. You can stream the musical's score on Spotify.
Go to track: This Modern Love
- Milly Cooke
Instagram: @mllyck @alxndrpltz