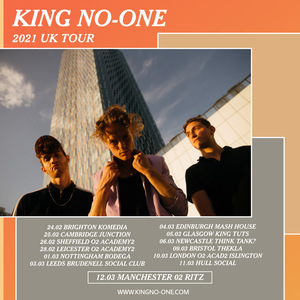 2020 dawned the release of two fresh new records and 2021 tour announcement from vibrant alt- pop guitar trio, King No-One. The York based band sell out major label venues, and gives you, the listener, a dynamic sound experience paired with exciting lyricism. Their new release records "Roll of the Dice" and "Not Willing To Sacrifice My Life" are certain to land in your summer playlists and get your head moving to the beat.
King No-One emerged onto the scene in 2013 in York, England and built their reputation through busking and live performances at small venues. Later moving to Manchester, King No-One soon blasted to be one of the top live guitar bands in England, performing across the country at well-loved venues such as O2 Ritz, Bristol Academy and Rock City.
King No-One has won the hearts of a huge fanbase with their BBC Radio 1 appearances, energetic main stage performances, lovable singles, (such as top tracks "Alcatraz", "Two Islands", and "Halo"), and their admirable stature promoting, and speaking openly about equality.
Their band name "King No-One" was given in statement that "No one is King" and everyone is born equal. Their single "Antichrist" released in 2017 asserts this, that regardless of our race, sexuality, gender, or class; we are all born equal.
King No-One has announced their 2021 tour to be held from February to March at 12 confirmed UK locations, including 02 Academies and well-known live performance venues. Tour locations include London, Sheffield, Bristol, Glasgow and many more.
See below for tour dates:
24 Feb – Komedia, BRIGHTON
25 Feb – Junction, CAMBRIDGE
25 Feb – 02 Academy, SHEFFIELD
28 Feb - 02 Academy, LEICESTER
1 Mar – The Bodega Social Club, LEEDS
3 Mar – Brudenell Social Club, LEEDS
4 Mar – Mash House, EDINBURGH
5 Mar – King Tuts, GLASGOW
6 Mar – ThinkTank?, NEWCASTLE
9 Mar – The Thekla, BRISTOL
10 Mar – 02 Academy Islington, LONDON
11 Mar – Social, HULL
- Ruth Mukonoweshuro
@rxuth