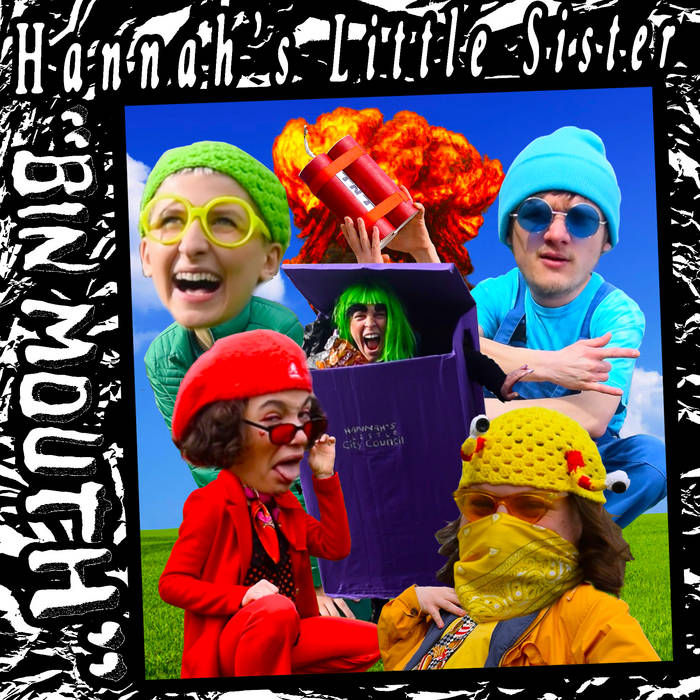 Hannah's Little Sister is a "moudly veg band from Liverpool". The band, which originally met at LIPA school in Liverpool, have been together since. Their love for a DIY approach to the sounds, delivering a work in progress roughness to the final outcome which is so distinctive.
The band just signed with Heist or Hit (Her's, Pizzagirl, Brad Stank) and these extravagant just released their new single "Bin Mouth". It sounds pretty cool.
The song has a whole rant vibe, explains the lead singer Meg Grooters. "I suppose like a lot of our songs, Bin Mouth is a rant in song form. It's a song about people who like to chat a lot of rubbish, when really they should just maybe zip it. I wrote it from the frustration of being in the firing line from a lot of gossip and nonsense spewing – but everyone knows a Bin Mouth, and probably everyone has been a bit of Bin Mouth too. It's about the litterbugs and chattermugs!"
The lyrics, mixed with an eclectic 80s sound, creates a vibrant song, filled with humor. She continues: "A lot of what's kept in the track is just us messing around on the mic (hence all the laughs and sniggers and weird noises). This song is one big laugh and there would have been no other right way to record it than us doing just that for the takes. Even the German line that Nina sings 'Wofür bist du ein Müllmund für?' is technically a bit of German nonsense – there was no right translation, so we forced Nina to betray her native language and sing it anyways."
The song was released alongside a music video which reminds of kids tv shows that where popular in the 80s 90s. Looking back they had a strong creepy vibe which works perfectly with the amazing chaos of this track. Hannah's Little Sister's energy is definitely a vibe that I can't wait to experience live when we will be able to in the future. It will definitely be a good start and a fresh and fun night that will lead to a good gigs season.
- Giulia Simonotti